From Kismayo to Carlisle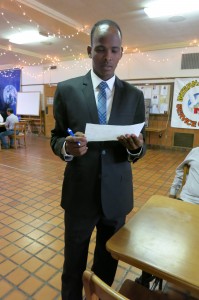 Alishine Hussein Osman was born in 1984 in Kismayo, a port city in southern Somalia. When the Somali Civil War erupted in 1990, he was separated from his family and taken in by another family. Alishine, as he preferred to be called, and his ten new relatives had to spent the next sixteen years lingering in the Ifo refugee camp in Dadaab, Kenya, which is administered by the United Nations High Commissioner for Refugees (UNHCR).
In 2006, the office of the United Nations in Ifo posted a list of names of individuals eligible for resettlement, and Alishine saw his at the top of the list. He had to go through an extensive interview process by the UNHCR, International Organization for Migration, Joint Voluntary Agency, Department of Homeland Security, and various other entities to document his family history, his experience with the Somali War, and his reasons for living in Ifo. After being granted refugee status by the UNHCR, he was sponsored by the Interfaith Ministries for Greater Houston (IMGH) six months later.
Alishine stepped through the gate at Houston Intercontinental Airport on September 10, 2007 and was escorted by an IMGH employee to his new home in the city. IMGH provided him with orientation about household appliances and found him a job at a local restaurant. Because of his limited English and lack of employment skills, he was quickly fired. He contacted his cousins residing in Mechanicsburg, Pennsylvania and moved there within two months.
Alishine began working at Home Depot while volunteering at the International Service Center (ISC), and taking classes at Harrisburg Area Community College (HACC). As he reached the one-year anniversary of his arrival in the United States, with the assistance of the ISC, he applied for adjustment of his status from refugee to legal permanent residence.
In August 2011, Alishine enrolled at Penn State University (PSU), Harrisburg Campus, as a Political Science major and graduated on December 21, 2013. During his time at PSU, he reached the five-year anniversary of his permanent residence, which deemed him eligible for citizenship. Through the ISC's refugee citizenship assistance program, he obtained the necessary study materials to prepare for the naturalization test. Alishine passed with flying colors and took his citizenship oath on the June 13, 2014 at the Carlisle Courthouse in Cumberland County.
Working as an Interpreter at the International Service Center since his graduation from PSU, Alishine has been assisting his less fortunate compatriots in following in his footsteps to pursue their own American journey.